14 Viral Tattoo Marketing Content Ideas for Insta & TikTok
Are you a tattoo artist or studio owner? You're in luck
You have just come across the best compilation of proven viral tattoo marketing content examples that can drive and inspire your content posting strategy for years to come.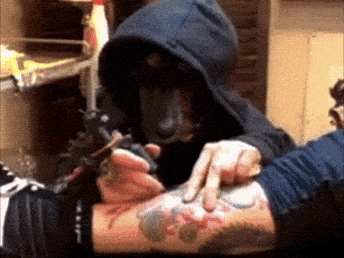 Going Beyond Just Posting
Pictures of Tattoos
The no.1 way to promote yourself as a tattoo artist on Social Media has been posting pictures of your work. This is great, it works and you should keep doing it to market yourself as a tattoo artist or shop. But with the coming of video based Social Media, a lot of attention and engagement has shifted to video content 🎥
If you keep posting the same 1-2 types of videos year in year out, well that's fine but you will not go viral or create the opportunity for more new tattoo lovers to learn about your work or your tattoo business on Social Media.
When it comes to paid ads, then you are actually investing a part of your revenue back into the business and you will be expecting some kind of return on that. You won't get that return, wither it be bookings, more followers or a wider recognition, with videos that do not trigger some kind of human emotional reaction
Speaking of Paid Ads, check out our article on how to setup and execute a successsful online ads campaign for tattoo artists and studios.
To fully benefit from your content posting strategy and paid ads, you will need an appropriate destination to send your prospects to that will convert visitors into customers at a high rate. This should be a conversion-optimized landing page. Check out this awesome landing page we created for one of our Tattoo clients.
Tattoo Studio Marketing Content Ideas That Actually
Work On Social Media
That's why we have created this awesome guide with content that we have seen works, out there in the wild, based on viewer reactions and not based on our own personal preferences.
A few things to keep in mind:


Not everything you do can go viral. Keep providing engaging content and you will hit now and then.
Whatever content you choose to create should reflect your 'voice' and not conflict with your other outwards communications.
On platforms like Instagram and TikTok, everyone is copying each other. That's because once people are on to something that works, it spreads like a meme. Don't be overly concerned with doing something original, create the types of content that are known to work well on these platforms in your own way. It is your persona, your shop or your work that adds value for the viewers.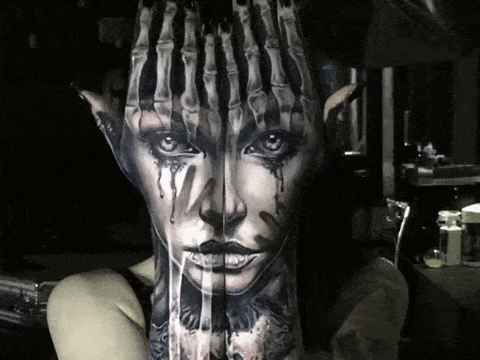 Tattoo Shop Marketing Content Ideas
Relatable Content
The Tattoo world has its own set of conventions, annoyances, cliches, and is a community with many shared experiences. These are a great basis on which to build relatable content that social media users really enjoy and are more likely engage with.
Even if you don't ever hit 24 Million views like our girl above, one million or a couple of hundred thousand views are still viral 👍 As long as people are not indifferent to your existence you're doing good, keep pushing.
Tattoo Shop Marketing Content Ideas
Humor
People like to laugh. You could say that funny content is also relatable, but whatever, I am going to make a separate category out of it. 
It's rare to get more than a few hundred comments, your content really has to strike up some debate or make people want to share something. Don't worry, get those views, not everything needs to start a discussion.
Tattoo Shop Marketing Content Ideas
Tattoo Ideas & Artwork
Showing Tattoo ideas is a good way to get people interested in you as an artist, to communicate the style and passion for the art while at the same time giving value and attracting the right kind of viewer, i.e. the type of person who appreciates your work 🔥💎
Work the timing of your video cuts to the audio, think of an intro and about how you will transition to showing the artwork. These details are what make can make it an engaging and entertaining view for your prospective audience.
Tattoo Shop Marketing Content Ideas
Artist Spotlight
Some times it's cool for the content to not be 100% about the tattoos but more focused on the artist instead. Switch things up, avoid the monotony of the same old same old. 
So make it about the artist 👑 It can be an interview style clip with questions, a monologue about whatever interests you, "A Day In The Life" type video, a promotional video with a call to action… the possibilities are endless. 
Tattoo Shop Marketing Content Ideas
Compilation Videos
Besides posting pics of your work regularly, try creating a compilation video where you showcase some of your best and favorite work in one setting. 
Here's a good internet marketing tip: Take the 5 best performing posts of tattoos on your account in the past month/months/year and make a compilation of those. In other words use the content that got me most views, likes, comments. That is proven material that will do well as a compilation. If you have video content of those instead of only static pics, even better, use the video.
Tattoo Shop Marketing Content Ideas
Tattoo Reveal
The Tattoo Reveal is one of the most popular video formats on social media and can perform great if the reveal is well executed and has visual interest
The Tattoo itself may be a masterpiece or something super simple, it is more about the building and release of anticipation, about the audiovisual interest generated through the way video is filmed and edited. 
That said, it's not all that complicated, as you can see in these examples.
These tattoos below may be mostly simple in terms of difficulty for the artist but it's all about the show and how you present it.
Tattoo Shop Marketing Content Ideas
Interesting Tats
What makes a tattoo interesting? I don't have a foolproof answer for you but I know it when I see it and I hope so will you.
It could be something in a unique style, a novelty idea, something unusual, stylized, provocative, scandalous or just an amazing piece of art. As always the presentation counts for a lot.
Tattoo Shop Marketing Content Ideas
Building Trust & Authority
When we talk about building trust and authority online, this often takes the form of reviews and testimonials ⭐⭐⭐⭐⭐
These can be reviews that are posted on your Google Maps listing, shown on your website or just sent to you via chat. Get the customers permission to use it in your social media.
Tattoo Shop Marketing Content Ideas
Your Tattoo Process
Getting a Tattoo is a process. That process lends itself very well to creating a video. It can be brief with just a few shots of key moments or a longer time-lapse style video. You can show part of the entire process or go from the first steps to the end, nothing is set in stone.
Tattoo Shop Marketing Content Ideas
Before-After
Instead of showing the whole tattooing process you can go with a simple before-after shot. It can be from before getting a tattoo to when it's done, or before doing a retouch or cover up of an existing tattoo. 
As with a lot of the content we discussed, the interest generated by the audio-visual presentation can be what determines viewer engagement levels more so than the tattoo itself being a masterpiece. 
Tattoo Shop Marketing Content Ideas
Hot Babes
Ah yes, the Hot Babes content. Let's say that Babes refers to an attractive person of either sex, but OK it is mostly men who cannot resist a hot babe doing nothing in particular .
My view on this is that this type of content is fine for a rare one-off but if you regularly post this type of content you may end up with too many followers who are not really interested in your work and will not engage with your regular content. This is not a good thing for your engagement rate and for your account health in general. So I'm just including this content type here with that caveat.
Tattoo Shop Marketing Content Ideas
Informational
Not everyone is an expert when it comes to tattoos. These type of information-providing videos are much appreciated by viewers but can also be great at generating conversation in the comments.
As a tattoo professional you will be familiar with the types of things that customers ask or like to talk about. Use that industry specific knowledge to inform and inspire your content creation.
Tattoo Shop Marketing Content Ideas
Storytelling
Storytelling is the activity of telling or writing stories. In our case we can create a visual narrative through the use of video. We also have the ability to add captions and music as desired to enhance or further our story. 
Storytelling is a kind of nebulous category because you can tell a story about anything, I hope the examples above help to illustrate what I am getting at. 
Tattoo Shop Marketing Content Ideas
Tattoo Other Objects
Usually it is people getting tattooed. But apparently social media users love seeing things other than people get tattooed too. It can anything from a showcase of some work on a practice skin, to tattooing a candy bar. The novelty seems to interest viewers, as does the sensory experience of the act of tattooing.
Tattoo Shop Marketing Content Ideas
Other
As a reward for reaching (nearly) the end of this article, I've got a few more powerful content examples for you that did not easily fit into one of the other categories.
I did not want to leave these out, as I said at the start, this is the best and most comprehensive list of viral tattoo marketing content examples 💣
Some Great Tattoo
Marketing Related Articles
Read about how this tattoo artist has gone viral
Being one of the first people to hop onto a new platform and make a name for yourself is a powerful thing and it's allowed Jake Karamol to become the most famous tattooer on TikTok.
Tattoo Shop Marketing Ideas
This is a list that covers the basics of Tattoo online marketing, and also goes into some more depth about claiming your Google listing and accepting online bookings. The article is on the website of a company that offers appointment scheduling software for beauty, fitness, and wellness professionals.
The Basics of Tattoo Artist Marketing
This is another good article covering the the subject of tattoo business marketing. This one is on the blog of a company called DaySmart Body Art that offers a shop management platform that may also be of interest to you.
Reach new audiences, retain existing customers.
Grow Your Tattoo Business with
Social Ads
I am the Co-Founder of NextLevelBros, a digital marketing agency that specializes in social media ads. Our team of Facebook advertising hotshots can turn your Tattoo business related plans and goals into a reality.
We've been in the advertising business for more than 15 years and have the skills to excel at all types of digital marketing tasks. Check out this awesome landing page we created for one of our Tattoo clients – this is the page that potential customers are directed too after they click on our clients ads. You won't find another landing page like this in the tattoo biz. So want to see where we can take your business? Book a free appointment.